U841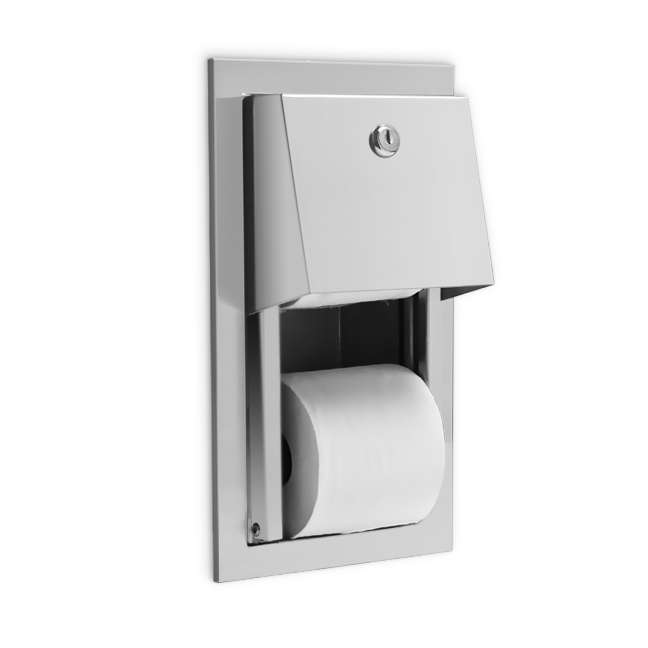 Product Features
Fabricated of #22 gauge stainless steel with a #4 satin finish
Holds two standard toilet tissue rolls
Secured with pin tumbler lock, keyed like all AJW cabinets
Product Specs
Body: Fabricated of #22 ga stainless steel with #4 satin finish. Concealed inner dispensing mechanism is #18 ga stainless steel.
Back: Fabricated of #18 ga stainless steel with multiple welds to cabinet body forming a one piece construction.
Hood: Fabricated of #18 ga stainless steel finished to match cabinet body. Hood is secured with stainless steel hinge rivets to cabinet body. Top roll of tissue will not drop down unless the bottom roll has been depleted. When unit is closed, this will provide a theft resistant, non-control operation and reduce vandalism.
Flange: One piece construction without miters or welds fabricated of #22 ga stainless steel, with#4 satin finish to match cabinet.
Locks: Pin tumbler, commercial quality locks keyed like all other AJW cabinets.
Spindles: (U005) Fabricated of one-piece molded high impact black ABS material.
Overall Size: 8"W x 14"H x 6 3/4"D
203mm x 356mm x 171mm
Wall Opening: 6 3/8"W x 12 3/8"H x 3 5/8"D
162mm x 314mm x 93mm
Capacity: Two standard rolls with a 5 1/4" (133mm) OD.
Installation Instruction
Coordinate installation with architect or contractor to avoid pipes, vents, etc. Provide a rough wall opening in mounting surface at desired or specified location. Open cabinet, remove spindles and insert into opening. Secure unit with proper fasteners pe