U106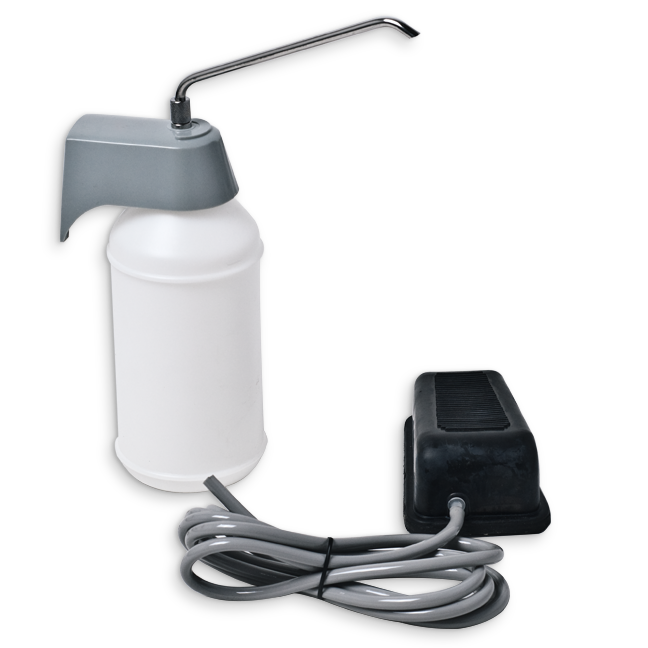 Product Features
Spout fabricated of 316 stainless steel
Globe is tanslucent, shatterproof and corrosion resistant molded polyethylene
Foot pedal is molded neprene with non-slip surface for safety
Holds 32 oz. of liquid soap
Product Specs
Spout: Fabricated of 316 stainless steel that rotates 7" in length, that will dispense all type of surgical and antibacterial soaps.
Globe: Translucent molded polyethylene globe that is shatterproof and corrosion resistant.
Foot Pedal: Foot pump is molded of neoprene with a non-slip surface and is connected to dispenser by means of an 8"-0" durable vinyl tubing.
Mounting Hood: Fabricated of Grey high impact plastic that is corrosion resistant. Hood secures to mounting surface by means of a concealed mounting plate. Globe, supply tube and spout all secure at areas inside hood to complete dispenser.
Overall Size: 4 1/2"W x 9 1/4"H 114mm x 235mm
Capacity: 32 oz.
Installation Instruction
Provide an area on wall surface at desired or specified location that will allow foot pedal operation in an area that will be accessible to the user. Secure concealed mounting plate to wall surface (with proper fasteners) making sure unit will be level and allow globe to be removed for servicing and cleaning. Secure hood over plate. Connect supply tube to valve inside hood making sure notched end will be inside globe. Fill globe with desired soap and secure to hood. Prime dispenser until soap flows freely from spout.

Preventative Maintenance: Each dispenser should be flushed out aprx every 30 days with warm water to prevent valve from clogging with old soap. Abrasive cleaners should not be used when wiping down dispenser.