U864 Series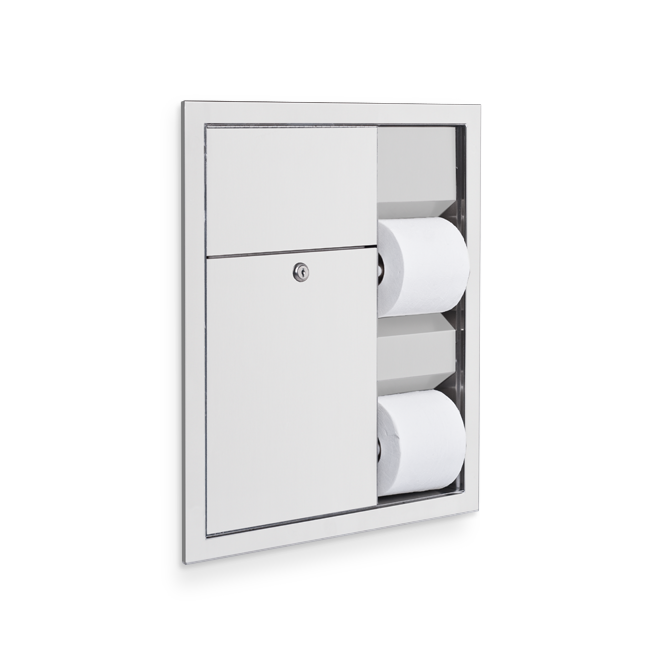 Product Features
Fabricated of #22 gauge stainless steel with a #4 satin finish
Holds two standard toilet tissue rolls
Waste receptacle has a 2 gallon capacity
Product Specs
Cabinet: Fabricated of #22 gauge stainless steel. All exposed surfaces have a #4 satin finish.
Flange: Fabricated of #22 gauge stainless steel one-piece drawn seamless construction. No seams or exposed miters with 1/4" returns to wall surface.
Napkin Disposal: Self closing push panel door is fabricated of #22 gauge stainless steel. Removable Waste is fabricated of same material with pin tumbler lock. Waste is identified with International Graphic symbol.
Toilet Tissue Dispenser: #22 gauge stainless steel hat adapters secure chrome plated, spring loaded rollers in place.
U007 Theft Resistant Adapters: Optional style rollers that prevent core from being removed until roll has been depleted.
Hinges: All hinges are full length, heavy duty, stainless steel piano type hinges.
Collars: #22 ga stainless steel finished to match cabinet.
Overall Size: 17 1/4"W x 20"H x 4 1/4"D
438mm x 508mm x 108mm
Wall Opening: 15 3/4"W x 18 1/2"H x 4"D
400mm x 470mm x 102mm
U864-S2: 2" semi-recessed. collar, 2" wall opening, 51 mm
U864-SM: Full surface mounted collar.
Waste Capacity: 2 Gallons (.26 cu ft)
Toilet Tissue: Two standard rolls with a 5 1/4" (133mm) OD.
Installation Instruction
Provide rough wall opening at desired or specified location of 15 3/4"W x 18 1/2"H. (Depth of opening will depend on type mounting required.) Place lower unit in opening to ensure proper fit. If unit fits properly in opening, secure with proper fasteners