U112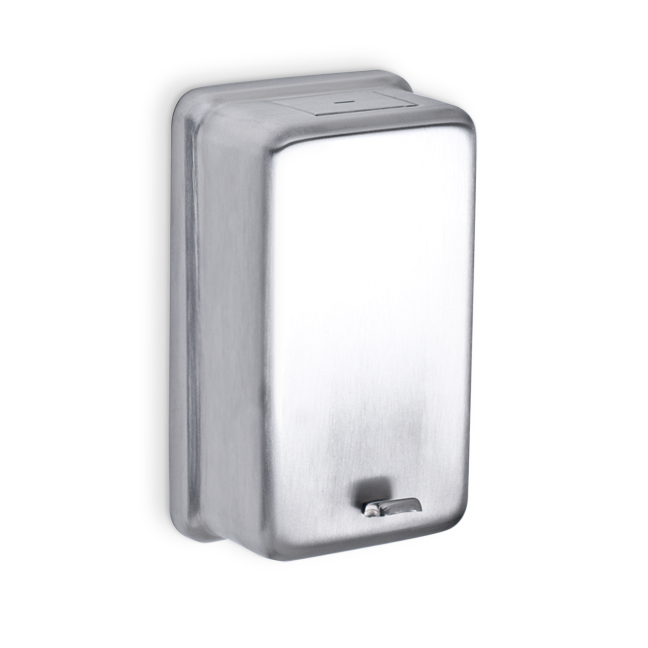 Product Features
Fabricated of #22 gauge stainless steel with a #4 satin finish
Features an adjustable dispenser to control usage
Holds 32 oz of powder soap
Concealed mounting prevents tampering
Product Specs
Tank: Fabricated of #22 gauge stainless steel, formed construction. Back and tank are fully welded to form a one piece unit. Large filler cap is tamper resistant that opens with special key. Large opening allows easy servicing.
Concealed Wall Plate: Fabricated of heavy gauge stainless steel.
Valve: Stainless steel agitator that is spring loaded and adjustable to regulate the amount of soap to be dispensed. Caking of powdered soap is avoided because moisture cannot enter dispenser.
Overall Size: 4 13/16"W x 8 1/8"H x 3 11/16"D 121mm x 206mm x 93mm
Capacity: 32 oz powder soap
Installation Instruction
Provide an area on wall surface at desired or specified location. Place concealed mounting plate on wall surface and transfer mounting points. Drill pilot holes and secure with proper fasteners per application. Secure tank to mounting plate by opening filler cap and tightening down lock screw. Fill tank with powder soap. Test powder for dispensing and adjust to required flow.

*It is not recommended to mount any soap dispenser on mirrors