U117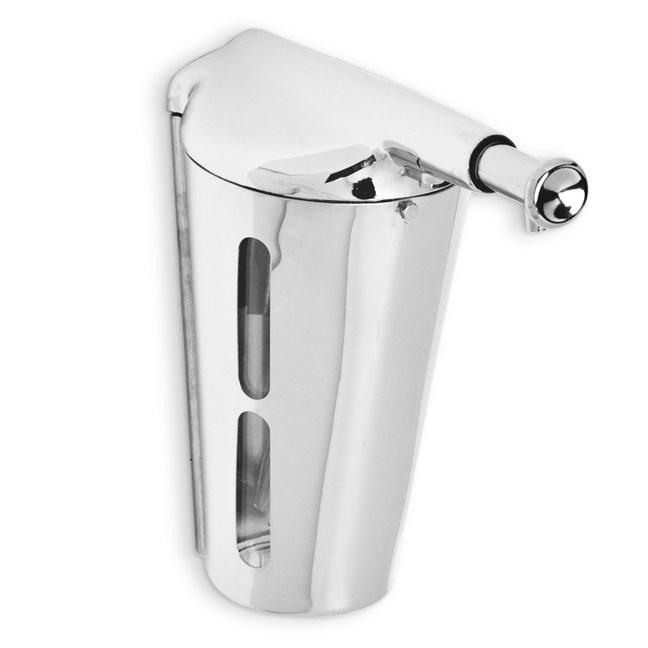 Product Features
Spout is finished with highly polished chrome on brass
Globe is molded polyethylene encased in highly polished stainless steel
Holds 12 oz. of liquid soap
Product Specs
Dispenser: Fabricated of chrome plated brass. Valve: Push in type valve is fabricated of chrome plated ABS material with a stainless steel return spring. Valve is located above soap level to assure a drip free operation.
Globe: Clear, high impact, corrosion resistant container encased in highly polished stainless steel container with slotted sides to allow a constant fluid level check.
Mounting Plate: Theft resistant chrome plated steel wall plate.
Filler Cap: Theft resistant filler cap is equipped with special service key and secured by means of a small chain.
Overall Size: 3 3/16"W x 6 1/2"H x 6 1/8"D 81mm x 165mm x 156mm
Capacity: 12 fluid oz.
Installation Instruction
Provide an area on wall surface at desired or specified location. Hold mounting plate to surface making sure unit is level and transfer mounting points. Secure plate with proper fasteners per application. Two top screws will set dispenser in place on mounting plate. Secure bottom of dispenser to plate with supplied fastener. Remove service cap and fill dispenser with proper soap. Prime dispenser until soap flows freely.

*It is not recommended to mount any soap dispenser on mirrors

**For best performance, use pre-mixed low concentrate solutions. Dispensers should have periodic maintenance performed to insure life of dispenser. Rinse out globe and valve with warm water to prevent sludge buildup.

Preventative Maintenance: Each dispenser should be flushed out aprx every 30 days with warm water to prevent valve from clogging with old soap, Abrasive cleaners should not be used when wiping down dispenser.