U2614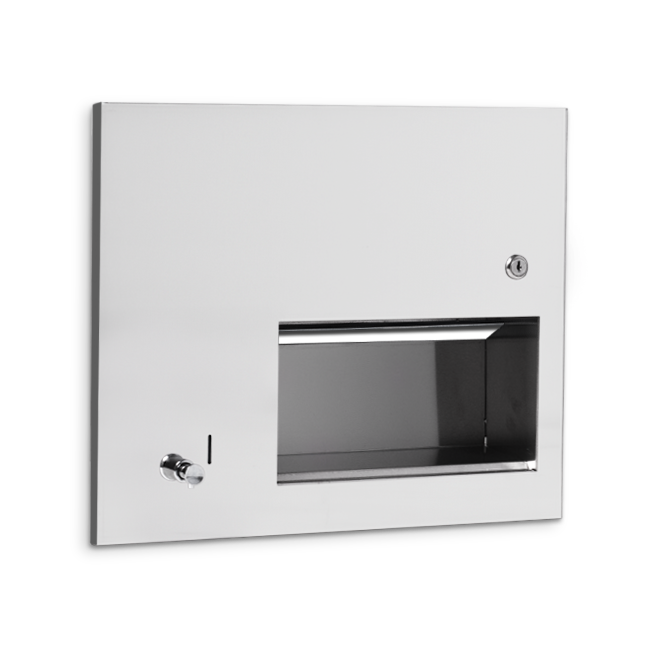 Product Features
Fabricated of #18 gauge stainless steel with #4 satin finish
Unit features Uni-door construction
Holds 475 multifold towels
Product Specs
Uni-Door: Fabricated of #18 gauge stainless steel with a #4 satin finish and 1/2"returns to wall surface. Viewer for soap level is notched out of face.
Body: Fabricated of #22 gauge stainless steel.
Towel Dispenser: Hemmed edges prevent injury and towel tearing.
Valve: All purpose highly polished chrome on brass valve with stainless steel return spring and bellows valve design provides a drip free operation.
Globe: Large capacity corrosion resistant globe with screw cap allows easy access for servicing unit.
Hinges: Heavy duty stainless steel piano type hinge.
Lock: Pin tumbler commercial quality lock keyed like all other AJW cabinets.
Overall Size: 17 1/4"W x 14 1/4"H x 4 1/2"D
438mm x 362mm x 108mm
Wall Opening: 15 3/4"W x 12 3/4"H x 4"D
400mm x 324mm x 102mm
Towel Capacity: 475 multifold
Soap Capacity: 34 fluid oz.
Installation Instruction
Coordinate installation with architect or contractor to avoid interference with pipes, vents, etc. Provide a rough wall opening 12 3/4" x 24 1/2" x 4". Open cabinet door making sure unit is level in opening and secure with proper fasteners per application